Real Estate: Licensing
Real Estate License Exam Review & Prep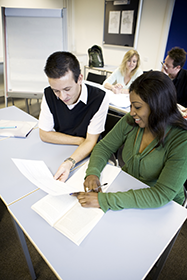 Get the edge you need to pass the first time.
Exam Ready will boost your confidence and provide the essential information you need to pass your real estate Brokers or Salesperson exam.
Our proven program includes:
All-day LIVE instruction
Experienced, knowledgeable faculty
Test-taking tips
Instructor feedback
Practice tests
Success Guarantee*

This 3-hour session includes National Detailed Content, including Agency, Contracts, Ownership, Finance, Real Property, Marketing Regulations and Property Management.

This 1.5-hour session includes Real Estate Math Calculations, including Ad Valorem, Transfer Tax, Finance, Commission, Appraisal and Settlement.

This 2.5-hour session includes Illinois State Specific Content, including Licensing Requirements, IL License Law and Rules and Disclosures.
Notes:
National and Math sessions have content that is applicable to various states. However, the course has been developed for those states that specifically utilize Applied Measurement Professionals (AMP) for their state test administration. These states include Alabama, Georgia, Illinois, Missouri, Montana, Nebraska, New Hampshire, North Carolina, North Dakota, Vermont, Washington and Wyoming.
* We stand by our students and believe the tools within the Exam Ready program will ensure you can pass your real estate exam. The Exam Ready Success Guarantee allows students who fail a state exam to retake the Exam Ready program at no cost.